What to visit in Mijas
April 22nd, 2021 |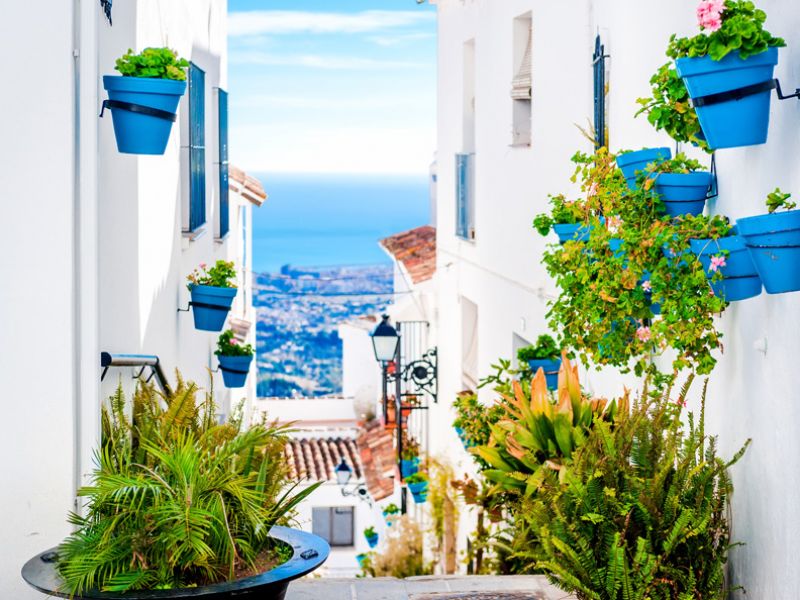 Mijas is a beautiful place to visit on the Costa del Sol. It is one of the famous white towns in Andalusia, known for its sidewalks full of flower pots, its donkey taxis and its gastronomy. It is a place with a lot of charm and history, where you will find landscapes and unique places such as the oval Plaza de Toros. When it comes to fun, it has beautiful beaches and a very active and varied nightlife.
What places to visit in Mijas
When you arrive, the first thing you can enjoy is the spectacle given by all the white houses that climb the slopes of the Sierra de Mijas. The place is divided into three sectors: El Pueblo, Las Lagunas and the coast.
In the historic center you can see the slopes full of colored pots, with flowers that contrast with the white of the facades. The architecture of the place is very Andalusian. Another great attraction is in the views of the Mediterranean, which are unsurpassed. Next, we recommend some places to see and enjoy in this town.
Flamenco show
In Mijas Pueblo, on Wednesdays and Saturdays at twelve in the morning, a completely free flamenco show is presented. On Wednesdays it can be seen in the Plaza Virgen de la Peña and on Saturdays in the Plaza de la Constitución. This show is worth enjoying, flamenco was declared an intangible heritage of humanity and is a part of Spanish culture.
Historical – ethnographic museum
The also called Casa Museo is a place where you can see and appreciate the Mijas of yesterday. It is a museum in which there are recreations of the ancient trades and customs of the town of Mijas. In this place you will be able to appreciate two oil mills, a traditional home, a bakery and a wine cellar, among other things.
There are also traveling exhibitions of painting, photography and history. To visit the permanent collection is to take a trip to the countryside and the Sierra Mijas, with its smell of rosemary and thyme, where they work with lime and esparto, it is a walk through the local historical past.
Contemporary Art Center
The CAC Mijas is really the depository of more than six hundred works by great artists. In its collection you can find works by Picasso, Dalí, Braque, Miró and Foujita, among many others. Here you can see the second most outstanding fixed collection of Picasso ceramics, just behind that of the Picasso Museum in Paris.
The CAC is located in a structure formed from two 19th century houses, which provides a great historical style. Apart from its permanent exhibition, temporary exhibitions of high singularity are also held, which is always a surprise for visitors.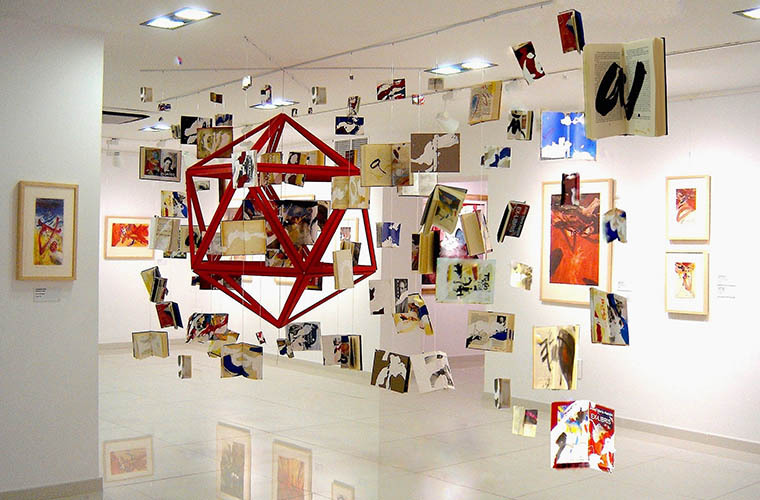 Wine museum
This museum is located in a building dating from 1839, so it is considered a typical construction of the Andalusia region. Here you can taste more than 250 wine references with different denominations, all from Spain.
In particular, the DO Málaga – Sierra de Málaga are highly appreciated by visitors. It is a place dedicated to collecting the best wines in the region and throughout the national territory, where wine and oil tastings are held. It offers pairing menus and à la carte service to attendees, as well as selling wines and gourmet products.
The wall and its gardens
This is a very beautiful place that can be visited for free throughout the year. It is the ruins of an old Arab fortress, converted into a viewpoint of the Costa del Sol. It has a large botanical collection of the native species of the region, in addition to having animals such as ducks in total freedom around the place.
Its gardens were designed so that blooms can be seen all year round. It has a high stone waterfall that at night presents a show due to the lights that illuminate it. On the plain of La Muralla is the Mijas bullring, famous for its oval shape, and the Church of the Immaculate Conception, both monuments in their own right.
The old town
The old town of Mijas is made up of low, white houses that line its streets. It is a picturesque place decorated with very artistic bars and places full of details that are worth looking at and photographing. It is here where the most important shops of the city and souvenir shops are located.
Hermitage of the Virgen de la Peña
This hermitage was carved out of the rock by Mercedarian friars around 1500. According to legend this virgin appeared between the castle walls, and two children were led to the place by a dove. It is a place with a great tradition for the stories of Marian apparitions. Here you can also see El Compás and it can be visited for free every day of the year.
Hermitage of San Sebastián
It is the most beautiful church in the town, completely white to match the rest of the buildings. On its façade you can see a clock from the early 1900s. It was built in 1674 and is located at the beginning of Calle San Sebastián, one of the most picturesque. It is ideal for you to take pictures.
Inside you can see carved sacred images and a beautiful altarpiece of Jesus Nazareno located under a hemispherical vault. You can also see a groin vault that is adorned with mural paintings of angels.
Fun in Mijas
This is an ideal town for tourism. In addition to the interesting and beautiful landscapes to know, it has many places and activities to recreate or have fun. Next, you will be able to know some of the funniest places and activities in Mijas.
Beaches
Mijas is a town that has 12 km of coastline. Its beaches sport eight Q flags of tourist quality. Among them are El Ejido, Piedras del Cura, Playa del Faro, Playa el Caharcón, Playa el Chaparral, Playa de las Doradas, Playa de la Cala, Playa el Bombo and Playa de Calahonda. All with their respective tourist attractions and the famous Mediterranean hospitality. In them you can find a spectacular seafood cuisine. It is a great place to rest and relax or to do activities typical of aquatic fun.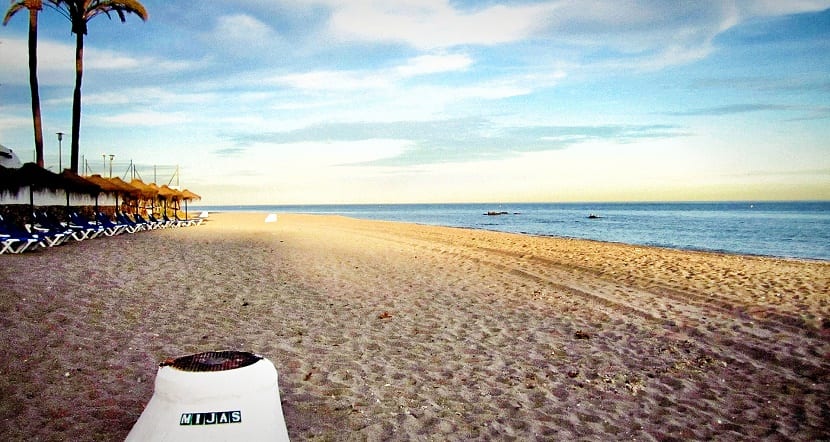 Leisure and activities for the day
The crystalline beaches of Mijas are ideal for diving. Even if you want to learn how to do it, there are many schools where you can practice it. Another great source of water fun is the Mijas Water Park. In it you will find slides and swimming pools spread over an area of 34,000 square meters. It has thematic areas and all the necessary facilities to spend a different day.
In Mijas you can also have fun on the karting track or playing golf in one of its many courses. You can go hiking through unique and spectacular places or make purchases in its beautiful craft shops. Another excellent option is to sign up for a free tour of Mijas, in which you will enjoy a guided tour of the town at no cost.
Night life
At the end of the day, Mijas takes on a new life. During the night, there are places that offer great gastronomy, where you can taste the typical dishes of the town or Andalusian food such as the famous cachorreña soup, salmorejo, maimon soup and gazpachuelo.
It has a great proposal of places and restaurants where you can try a very varied international food, which can please even the most demanding palates. Among the most outstanding restaurants is El Mirlo Blanco, which has more than 40 years dedicated to Basque cuisine and its great flavors. Traditional dishes such as chagurro and chistorra are made here, characters like Jimmy Carter and Tony Blair have eaten here.
The bars of Mijas offer another great alternative. You can take a tour of them to try the tapas with the flavors of the area. It is a fun tour that you even have the option of looking for a cover at the tourist office to lower costs.
What to say about the live events that are presented on Tuesdays and Thursdays in the Plaza de la Virgen de la Peña, where dances and excellent entertainment are offered. Even in the summer months there will be instructors to learn Latin rhythms.
Mijas is the ideal place to spend a holiday season at any time of the year. With its famous donkey ride, which are the main protagonists of this beautiful town. This walk is a picturesque way to get to know the historic center and the most typical streets of the place with their flowerpots and flowers. It is a region famous for the white marble of the mountains, where you will want to spend a few days to visit all the places of interest.
Article by Vanesa Mena, Apr 22, 2021
Related Properties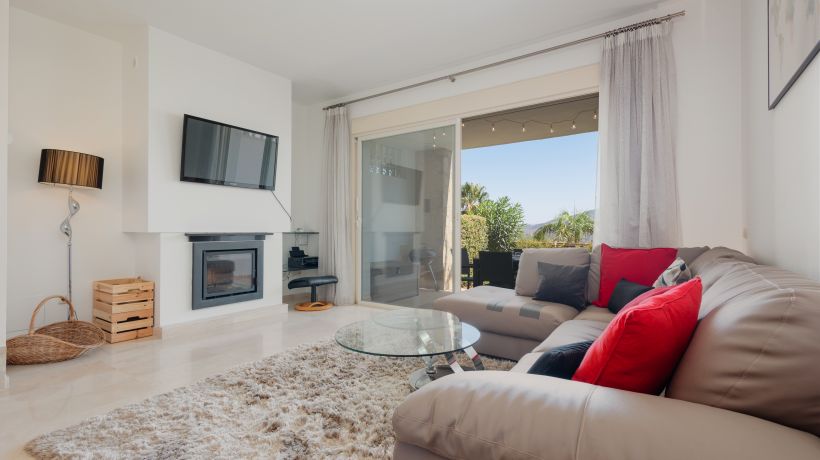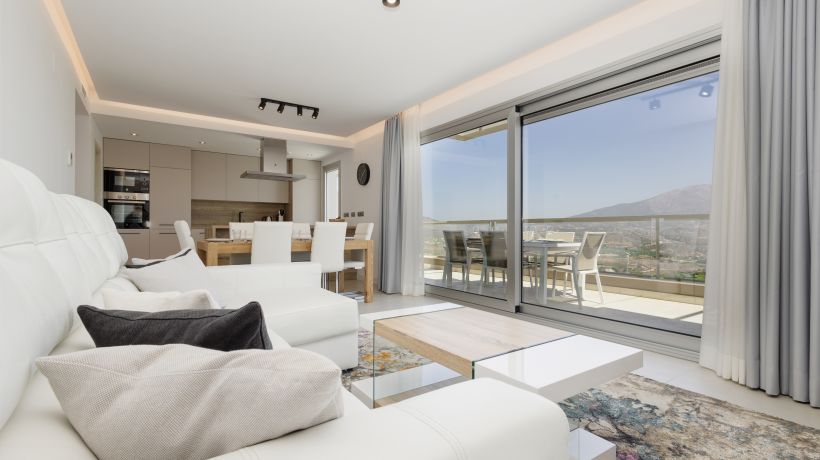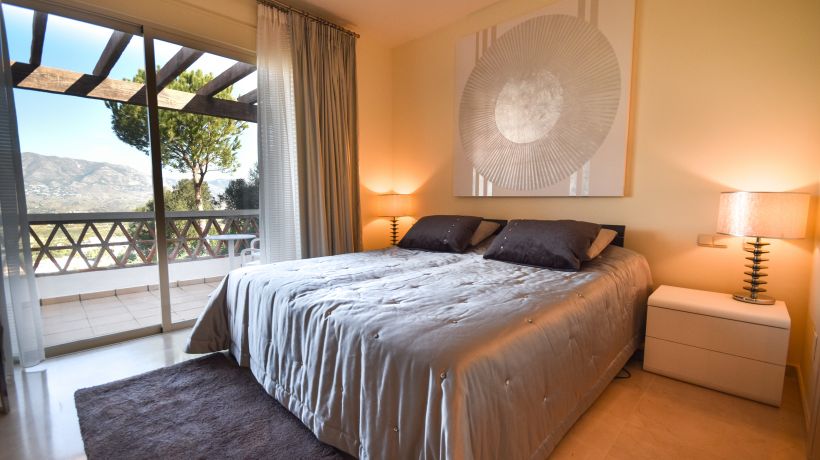 Semi Detached House, Mijas Costa