Privileges of Bahia de Marbella: Dunes, Atrium, Arenas and Salinas
May 18th, 2023 |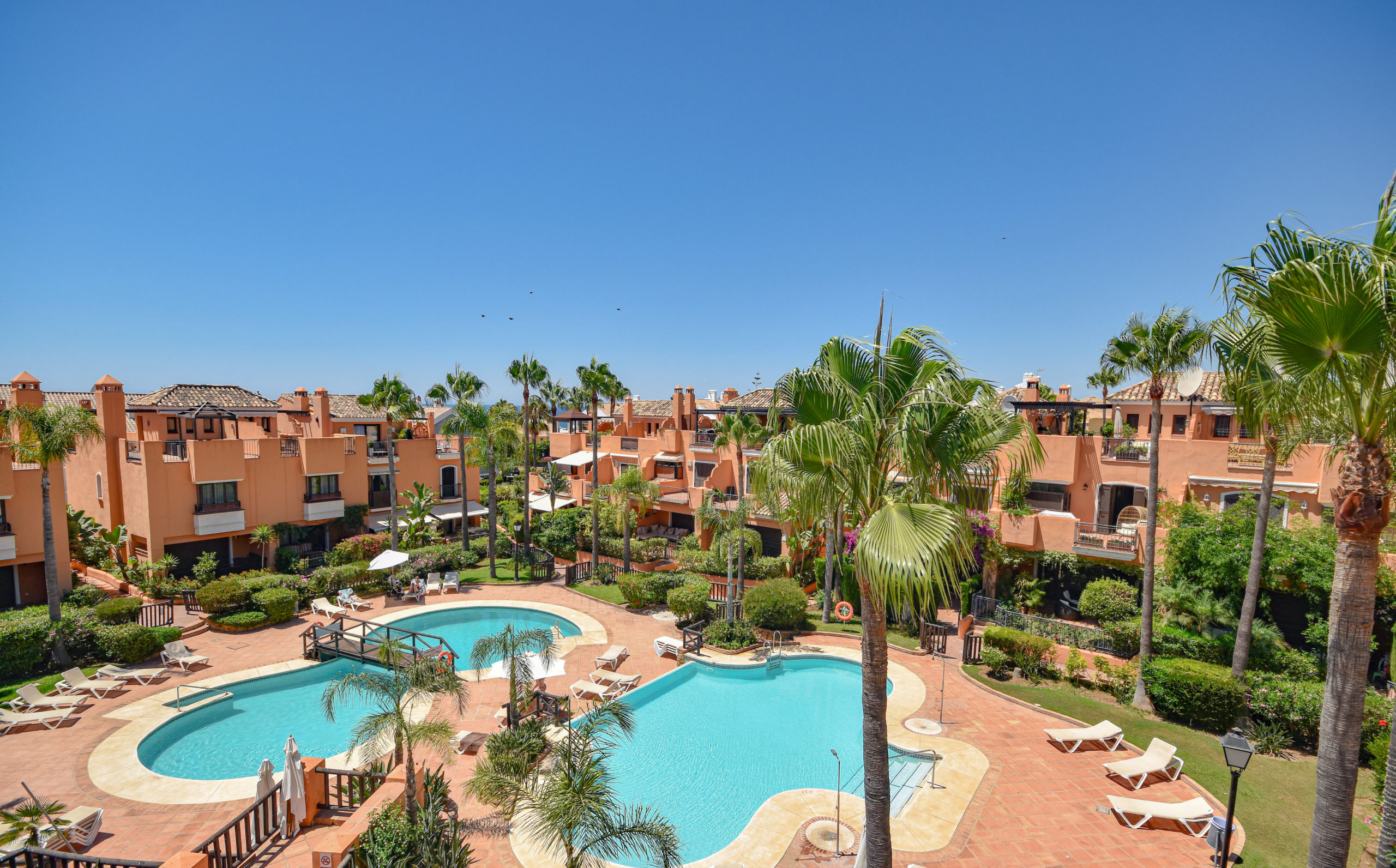 We cannot talk about Bahia de Marbella without referring to the private plots that characterize this area of the town of Malaga, we are talking about developments such as Atrium, Las Arenas, Las Salinas or Las Dunas, with all kinds of services for guests that will make your stay a totally premium experience. Being these hotel complexes, of high tourist attraction, some of those that make the municipality of Marbella one of the most demanded, for its high quality of life, among those belonging to the Costa del Sol. All of them close to the beach, with communal pools, gardens, beautiful outdoor areas and a 24 hour concierge that is already waiting to welcome you with open arms. But wait, as they would say from Apple, One More Thing, and we have one more thing, or even several, to tell you, because yes, these complexes go a long way.
First of all, you may be wondering: what do these four terrains have in common for us to talk about them in this post? Well, it is something that is easy to explain and is simply that they are all part of the same area known as Bahía de Marbella, located in Marbella East. It is an idyllic setting to enjoy with the family, less than 15 minutes from the tourist attraction of Puerto Banus, by car and crossing the A-7 and AP-7. On the other hand, just 10 minutes away, also by car and by the A-7 and N-340 highways, you will find the Center of Marbella, as well as 20, if you decide to travel by city bus, using lines 12/13 or line 6 of the company Avanza Bus from Malaga; which we will talk about, repeatedly, throughout the article, as it has different lines that will be very useful when you visit us.
Looking for developments in Bahía de Marbella? Here you have the best
On the one hand, we have Las Dunas, a community on the beachfront, with communal pool and sun loungers to enjoy during the summer months and even not so summer, as it is very common that in the Costa del Sol high temperatures prevail in seasons that could be considered as atypical for it. This community has a graphic surface of 22,400 m², being the largest of those that we will see in this entry, in terms of dimensions, and with a total of 94 houses, for rent, whose dimensions range between 195 m², for the smallest, and 444 m², for the largest, built from the year 2000.
On the other hand, there is Las Arenas (20,837 m²). This is another large residential area located in the Bahía de Marbella holiday area, built in 2001, and which is made up of 143 properties, with dimensions ranging from 85 to 535 square meters. In addition, in general, all its properties usually have centralized air conditioning and wifi; as well as, in the vacation rentals that are included in our staff, bed linen and bath towels, among other amenities that we offer to make your stay as comfortable and rewarding as possible.
But, if what we told you was not enough, we still have to tell you about the area in which these plots are located, which are only less than 15 minutes away, on foot and by public transport, and 5 minutes away, by car, from the beautiful Playa Los Monteros, characterized by its calm sea, ideal for children, for its low tide, as well as for its small mounds of golden sand grains, which form a landscape more typical of desert areas like the Sahara or Mojave, where the dunes are common. It is this desert landscape of sands and dunes that give rise to the name of some of the aforementioned: Urbanización Las Dunas and Urbanización Las Arenas. It is also important to mention that, in addition to Los Monteros Beach, at a close distance there is also the well-known Playa del Alicate, awarded with the blue flag by the European Foundation for Environmental Education and the Playa Real de Zaragoza.
Atrium would be another of the developments we want to talk about. The word atrium, from the Latin atrium, refers to a large place, without a roof, inside a building. That is why this name comes as a ring to this land, built in 2002 and whose properties are characterized, in general, by its large windows, as well as its large terraces overlooking the sea, which will allow you not to have to keep any artificial light on while the sun is present. The graphic surface in which are located all the apartments that make up this property, which would be a total of 100, is 16,066 m². In short, this is a luxury environment where you will not only want to spend a pleasant vacation, but to make it your tourist preference par excellence. In addition, as a plus, this urbanization also has two communal swimming pools, one of them designed for children, making it an excellent area if you are looking for a pleasant family vacation.
Last but not least, we find Las Salinas, whose name could come from its proximity to the beach of Alicate, whose sea is so salty that evaporated could be considered saline. Being this proximity to the beach just one of the many advantages of this urbanization, we can not stop talking about its spectacular swimming pool, its hammocks and its ideal garden with palm trees, as well as its no more and no less than 31 properties, built on a plot of 6. 824 m², this being the smallest residential area, both in terms of surface area and number of properties built, of those we have seen so far, as well as the most modern, due to its year of construction: 2003; despite this, it is its apartments, with dimensions ranging from 180 to 309 m², fully integrated, and its exceptional location, which makes Las Salinas a tourist environment with a lot of charm.
Leisure and sports, all in one
Are you passionate about sports? Well, you are still in the right place, because if the Costa del Sol is known as the Costa del Golf is precisely because you can enjoy several golf courses of the strategy game, such as Santa Clara Golf Marbella, Rio Real Golf Marbella and Marbella Golf Country Club, located in the surroundings, and you can reach them by car in less than 5 minutes, or in 15 minutes, approximately, using the Avanza Malaga lines: 6, 12 or 13. On the other hand, if what you like is rugby, you can subscribe to the Marbella Rugby Club, the official rugby school of the city of Marbella, which is located just 3 minutes walk from the common area of all these complexes, that is, Alameda del Mar street. As well as a wide range of water sports on the nearest beaches: paddle surfing, windsurfing, among others.
Going shopping? In the center of Marbella you can find stores of all kinds, from electronics to food and perfumery. Passing, also, by the Parque Comercial La Cañada, the main and largest shopping center in Marbella, located in Ojen street; this has 300 stores, plus cinema, and is only 7 minutes by car, by the A-7, or 40 minutes by bus, due to the detours, and you can use, for example, the combination of lines: Avanza L-302, to the bus station in Marbella and, once there, the line L-79 to Estepona.
On the other hand, if what you are looking for is that they put everything in front of you, it is not for lack of restaurants in the area, such as the Trocadero Arena Restaurant, located in Playa el Pinillo and the Luuma Beach Restaurant, in Playa Hermosa, characterized by its exceptional quality and exquisite food. And, to dazzle your palate with the highest quality Mediterranean cuisine, you can not miss the restaurants El Mangaleta, a dream place where you can taste the most exquisite seafood of the coast and the rich Hispanic paella, which, in addition, you can also go for a walk, as it is less than 10 minutes walk, as well as the Restaurant Los Sardinales or Hipopotamos Beach, a charming place with Spanish and Mexican food menu.
And since we are talking about restaurants, we must also talk about beach clubs, where you can enjoy the best sardine skewers, accompanied by a glass of beer and a good cocktail after dessert, such as: the Cabane Beach Club, Las Flores Restaurant, in Playa Andaluzas, or the NOSSO Summer Club Marbella, the latter with all kinds of fish and rice dishes that, when you see them, we are sure that you can not afford not to try them. In addition, all of them are also at a distance of about 20 minutes, using the services offered by the Avanza Malaga group, and their respective urban line N.6, as well as if you move in your own vehicle, where the time is reduced even more, being in this case no more than 10 minutes.
Even if you have small children, they can have fun trying CostaWaterPark, a circuit of elastic mats in the water, which will allow you to live an experience similar to that of the contestants of the programs of the second half of the 2000s: Wipeout or Splatalot, which, surely, your children know, or, if we go back further, of those known in the 90s: Humor Amarillo or Grand Prix. And finally, as far as recommendations are concerned, for our part, because the possibilities are endless, in Levante Beach, located 18 minutes away by car via AP-7 and the Mediterranean Highway, the company Water Sports Banus can guide you in activities such as: canoeing, pedalos with a slide, dolphin watching or parasailing.
Easy transportation, for you and your friends
As you have seen, the transportation options are multiple, being able to find from places to which you can move on foot, since they do not take more than 30 minutes on foot, besides enjoying great views along the way, such as: the golf course Santa Clara Golf Marbella, the restaurants Trocadero Arena, in Playa de Rio Real, or El Mangaleta or some great beach bars like La Cabane Beach Club. Even places where you can go by bus easily, using the various lines that we have been leaving you throughout the post, all belonging to the Avanza Malaga group, the only exceptions being those of Puerto Banus or La Cañada Shopping Center where we do recommend that you go in your own vehicle, due to the multiple detours. Therefore, we also recommend, in case you can not afford to come with your car, rent one in companies like Goldcar or Avis, among many other alternatives of the same style. Well, let's just say that you have no excuses when it comes to getting around!
But, the reality is that, if you want to know what it feels like to visit us, it is not enough that we tell you, you have to live it!
That's why we are waiting for you, here, in our holiday paradise: the Costa del Sol.
What are you waiting for?
Article by Miguel Oliva, May 18, 2023